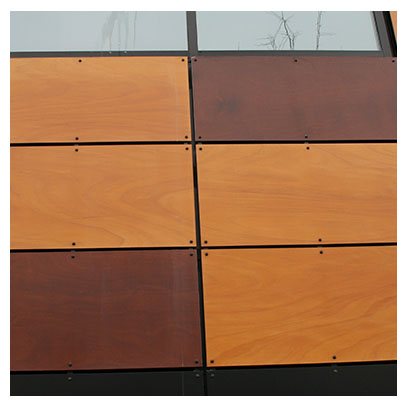 Additional Materials
We offer numerous exterior cladding options beyond our basic materials. From beautiful metal facades using copper and stainless steel, to wood composite and porcelain tile exterior panels, custom designs are our specialty. Additionally, we provide louvers, sunshades, and an abundance of additional exterior cladding options.
If there's something you have in mind but don't see here, contact us for help engineering an architecturally-unique solution for your facade.
Copper Exterior Cladding
Copper exterior cladding panels are available in several finishes providing a desirable aesthetic finish to your structure's façade. Using bonded copper sheets, this material comes in several different specifications for both durable and lightweight applications.
Wood Composite Cladding
Comprised of high strength weather resistant composite materials, this popular material is often recommended for outdoor wall decoration in residential, office, and hotel applications.
Stainless Steel Cladding
There are very few materials that offer the elegance of Stainless Steel Cladding. Their glossy polished appearance offers a durable substitute for many other metal surfaces due to its high tolerance for corrosion and sustainable design.
Porcelain Tile Cladding
Through pressed manufacturing methods, Porcelain Tile Cladding will showcase the exterior of your structure using strong, dense materials that are naturally designed to resist moisture.
True Stucco Cladding
This traditional material provides an economical solution as well as a strong and durable exterior barrier. This versatile material can be customized to provide a variety of colors and textures including, smooth, rough, or even patterned finishes.