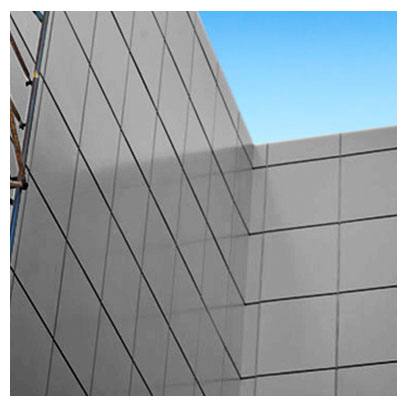 Fiber Cement
High Performance Concrete
Architectural Ultra-High-Performance Concrete (UHPC) is an innovative and leading-edge cladding that has architects reimagining what a façade can be.  Facades can incorporate complex shapes, surface patterns, and curvatures exceeding those possible with traditional sheet goods.
These innovations are possible due to UHPC's ability to resist both compressive and tensile forces. A UHPC façade can tolerate a decent amount of deflection without cracking or breaking. The low-porosity cement mix of UHPC is formed with fine aggregates and blended with fibers for strength. The elimination of rebar and passive support enables creative designs that were previously unachievable.
Flat Facade Panels
UHPC can also be cast as thin, flat façade panels that can incorporate textures or patterns as desired. For flat surfaces, EEWS also offers high-quality cement fiber boards sourced from popular manufacturers. Available in a wide array of colors and textures, these are shop cut to the required size and shape. Fiber cement and UHPC wall panels are offered as a pressure-equalized rainscreen system.
Climate Controlled Fabrication
Fabrication begins in EEWS's climate-controlled shop with construction of a light-gauge galvanized steel frame. A substrate of fiberglass-reinforced sheathing is attached to the frame and then enclosed in an air/water barrier. Panel-to-panel joints are field-sealed with silicone caulking at this barrier to create a completely watertight building cavity.
Specialty Patterns and Shapes
For specialty patterns and shapes, EEWS partners with precast manufacturers who cast the thin, custom UHPC panels. Involving EEWS early in a Design Assist arrangement is ideal in determining the specifics of casting and prefabrication.
The cement boards and/or UHPC panels are fastened to the substrate by means of concealed, thermally-isolated aluminum clips.
This fabrication technique creates a pressure-equalized, ventilated space that prevents moisture and heat from penetrating the building cavity.
Air circulation reduces the demand on the HVAC system and prevents the growth of mold and mildew.
Dry joints between the individual boards and pieces enable thermal and seismic movement without cracks and breaks appearing in the façade.
Cement boards and cast UHPC resist water penetration, damage from pollutants, and cracking from the freeze/thaw cycle.