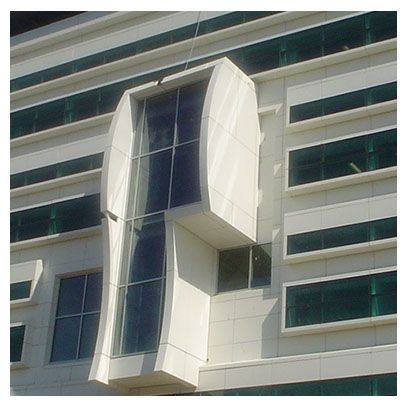 Metal
All Metal Cladding
Lightweight and contemporary, metal facades are a popular choice that can accommodate a variety of design intentions. All metal claddings from EEWS feature light-gauge steel-framed panels that are factory fabricated to offer significant quality advantages over field installations.
With weights as low as 12 pounds total per square foot, metal-clad wall panels can reduce substructure costs.
Aluminum Composite Material (ACM)
ACM is a sheet good manufactured from two sheets of .020" aluminum bonded to a fire resistant thermoplastic core. Individual sheets are routed on a CNC machine to enable tight, accurate bends.
The completed shape is then folded and attached to the panel with aluminum extrusions. ACM is available in a variety of colors and finishes from popular brands located throughout the world. As with all of our systems, the mega-panel can be designed as a wet-sealed double caulk joint or as a complete panel to panel perimeter gasket system.
Aluminum Plate
Aluminum plate systems offer similar appearance and performance as ACM.
Aluminum sheets are cut and welded into pans.
Surfaces are sanded, primed, and commonly painted with heat-treated finishes.
The completed pans are attached to the panel with aluminum extrusions.
Aluminum is an ideal choice for facades requiring perforations for decorative or functional purposes. Curved facades are achievable with both ACM and aluminum plate.
Corrugated Metal
Corrugated metal is a popular and economical option that lends itself to a variety of designs. Typically formed from aluminum, zinc, or steel, it can be installed horizontally or vertically.
Corrugated sheets are available from popular manufacturers in a variety of colors, textures, and finishes. Designers can choose from a variety of profiles with exposed or concealed fasteners. Finishes are either painted or anodized, and perforated sheets in a variety of patterns are available from some manufacturers.
Panel Construction
ACM, aluminum plate, and corrugated metal panels all begin with a light-gauge galvanized steel frame with fiberglass-reinforced exterior-grade sheathing mechanically fastened to it. This assembly is then wrapped in an air and vapor barrier per the project specifications. Semi-rigid mineral wool insulation can be installed as needed to meet the requirements of modern energy codes. The finished metal product is mechanically fastened to this assembly, creating a finished panel that is lightweight and easy to install.
Metal panels are offered in a wet-seal system featuring silicone-caulked joints that prevent water and air from penetrating behind the cladding. The system is also available with a moisture-drainage capability that uses weeps and internal membranes as a secondary line of defense against moisture intrusion.