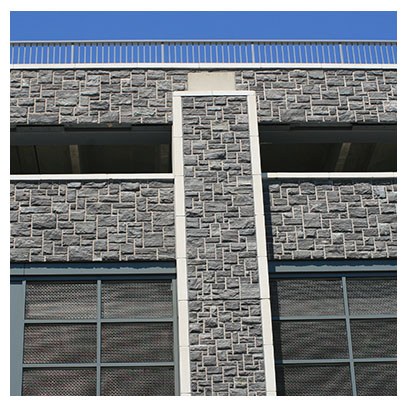 Stone
Panelized Stone
Elegant, natural, and durable, stone lends itself well to exterior use as either a feature and accent material. From the classic beauty of granite to the earthy finish of limestone, to the versatility of cast stone, EEWS collaborates with architects and designers to engineer and build a beautiful, high-quality panelized stone system.
When utilized as a full façade, stone's durability is unrivaled, and it will last a lifetime without losing its color or luster from direct sunlight exposure. An EEWS prefabricated stone panel can provide you the look of traditional handset stone with a fraction of the cost, time and weight typically associated with job site constructed, full dimensional stone.
Granite
Granite is a versatile choice, available in numerous colors and naturally veined patterns. With its outstanding hardness and resistance to abrasion, this igneous stone conveys a sense of luxury and classic beauty.
Limestone
Limestone and sandstone's warm hues and uniform look create a low-maintenance façade with a timeless appeal. From traditional Indiana Limestone to the uniquely quarried variety of textures and finishes, limestone panels can provide a wide range of aesthetics.
Cast Stone
Cast stone is a concrete masonry product that simulates the look of natural stone. Commonly used for architectural details such as window heads and sills, trim, cornices, and other ornamentation, it combines well with other cladding materials.
Attachment Systems
EEWS offers several attachment systems for their prefabricated stone wall panels. Mechanical fastening systems with kerf clips or pins work well for thicker stones, while structural silicone or thinset adhesive over a cement bed are used to apply thinner stones. Working with numerous quarries and manufacturers, EEWS can engineer the system that works best for any application.
Stone Insulation
Prefabricated stone panels are offered as a barrier system sealed with silicone-caulked joints. Optional outboard insulation is available between the sheathing and stone to engineer a wall that meets modern energy code requirements.