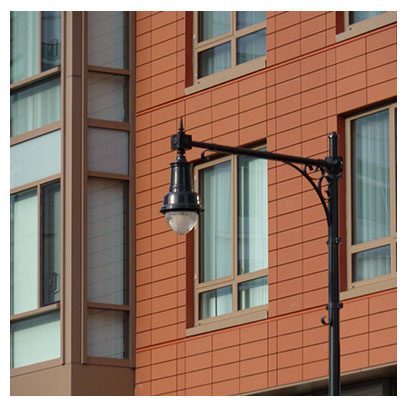 Terra Cotta
Natural Clay Tiles
Terra cotta tile lends itself well to both modern and traditional architectural styles. The natural, clean lines of terra cotta tiles provide an enduring, bold look.
Terra cotta is a natural clay product with color that stays permanent even when exposed to direct sunlight. There are buildings in the U.S. with 100-year old roofs made from the same fired clay that still look and perform as well as when they were built.
Offered solely as a rainscreen system, terra cotta tile wall panels provide a pressure-equalized system that prevents water intrusion into the building cavity. Like all EEWS prefabricated facades, terra cotta wall panels start with a light-gauge galvanized-steel frame. Fiberglass-reinforced sheathing is attached to the framing to serve as the substrate on which the air/water barrier is applied. All panel-to-panel joints are sealed at the face of this air/water barrier creating a fully watertight building envelope.
The terra cotta tiles are set outboard of the air/water barrier by means of concealed aluminum clips. This secondary barrier protects the building from wind-driven rain and snow. The ventilated space behind the tiles allows for pressure equalization, preventing moisture from being drawn into the building cavity. The circulation of air also prevents mold and mildew growth.
A terra cotta façade of enduring beauty can be prefabricated and installed quickly and efficiently, but will continue to provide benefits for decades to come.